Our relations with the stakeholders are built on the principles of responsibility and dialogue. The way to build those relations is defined in the PKN ORLEN's 'Core Values and Standards of Conduct', in which we declare that 'We firmly believe that open and honest communication helps foster good relations with stakeholders, thereby enhancing the Company's competitive advantage and value'. We want our relations with trading partners to be founded on integrity, transparency, mutual respect and professionalism. To ensure highest quality of stakeholder relations, the frequency and methods of communication are tailored to the characteristics and current expectations of each stakeholder group. A number of such measures are described in this Report.
Attendees of the Stakeholder Panel, that is representatives of the ORLEN Group and its stakeholder environment, reviewed the Stakeholder Map. As a result of recommendations developed during the Panel and internal consultations, the Stakeholder Map was updated. The following revisions were made:
The Key Stakeholder group was expanded to include "Local Community" and "Subcontractors and Suppliers" (the group also comprises Trading Partners, identified a year ago as a separate group among Stakeholders of major importance); Governmental Agencies were added to the State Treasury (the group also includes Public Administration, identified a year earlier as a separate group of Stakeholders of major importance) – as a result of which, the "State Treasury and Governmental Agencies" group was established.
The group of Stakeholders of major importance was expanded to include "Society".
Universities were replaced with a more of an umbrella term – "Scientific and research institutions".
"Non-domestic regulators" were replaced with "Regulators" (in Poland and the Group's other home markets).
"Capital market analysts" were replaced with "Capital Market".
The updated Stakeholder Map with a description of the respective groups is presented in the diagram below.
ORLEN Group's stakeholder map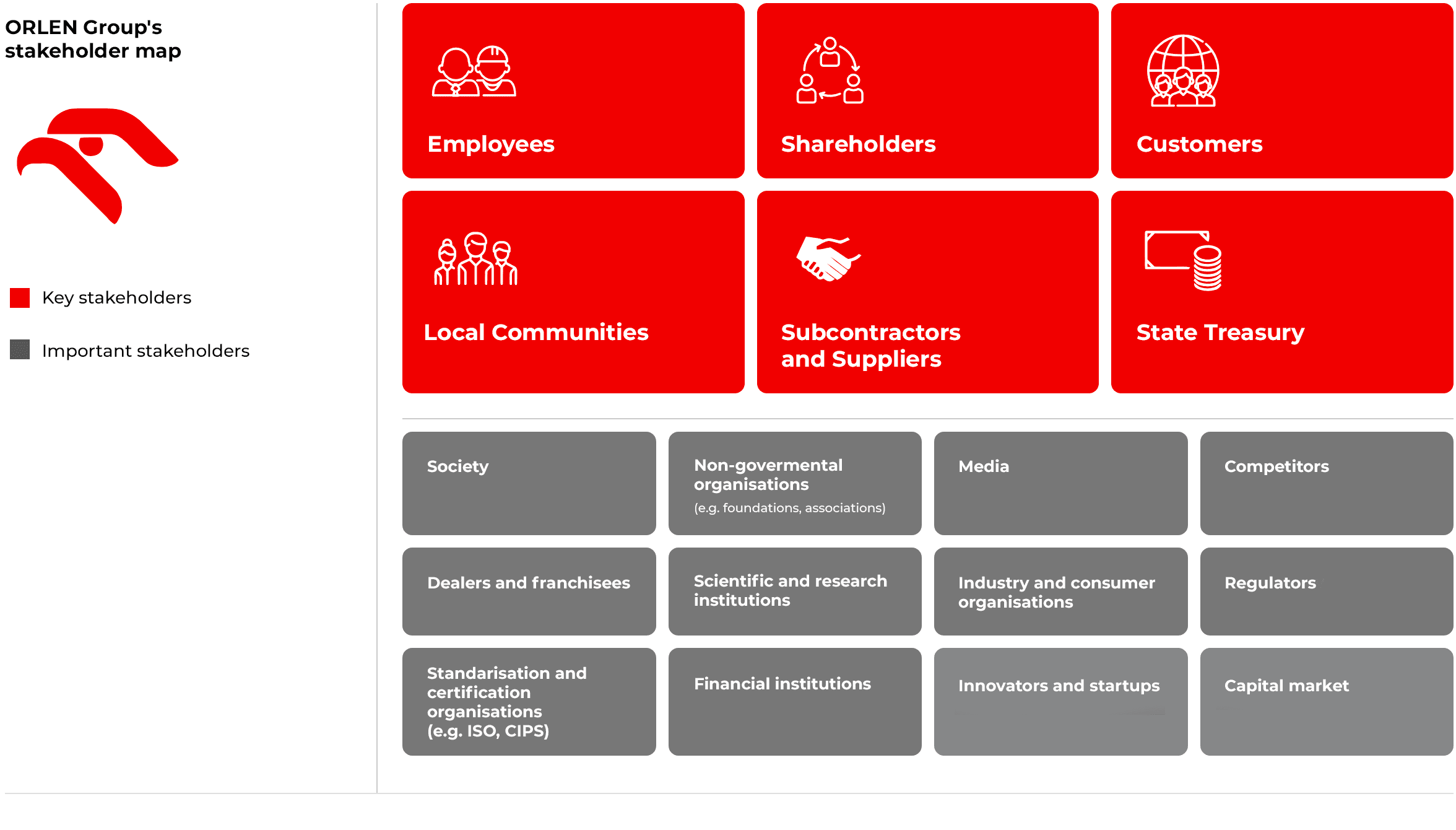 ORLEN Group's
stakeholder map
Auditor's opinion
It is our policy to arrange for external assurance of the Report by an independent organisation. The auditor performs an independent assessment of profile and specific indicators developed in accordance with GRI G4. The ORLEN Group's Integrated Report for 2017 was audited by Deloitte Advisory.