PKN ORLEN is a leading-edge player on the fuels and energy markets, and the largest company in Central and Eastern Europe, listed in prestigious global rankings such as Platts TOP250 and Thompson Reuters TOP100.
The Group owns state-of-the-art integrated infrastructure capable of processing more than 35 million tonnes of various crude oil types per annum, marketing its products through the CEE region's largest network of nearly 2,800 modern service stations. PKN ORLEN's offering includes over 50 top-quality petrochemical and refining products sold in more than 90 countries. As part of the efforts to develop its power business, the Group has completed a CCGT project in Włocławek and a similar project in Płock is scheduled for completion in 2018. The Group's upstream assets include 2P oil and gas reserves estimated at close to 153 mboe at the end of 2017.
ORLEN has long occupied the top spot among Poland's most valuable brands, with its value estimated at PLN 4.7bn.
This year PKN ORLEN has also received − for the fifth consecutive time and as the only company in the region − the coveted title of 'The Most Ethical Company' from the US-based Ethisphere Institute.
2017 HIGHLIGHTS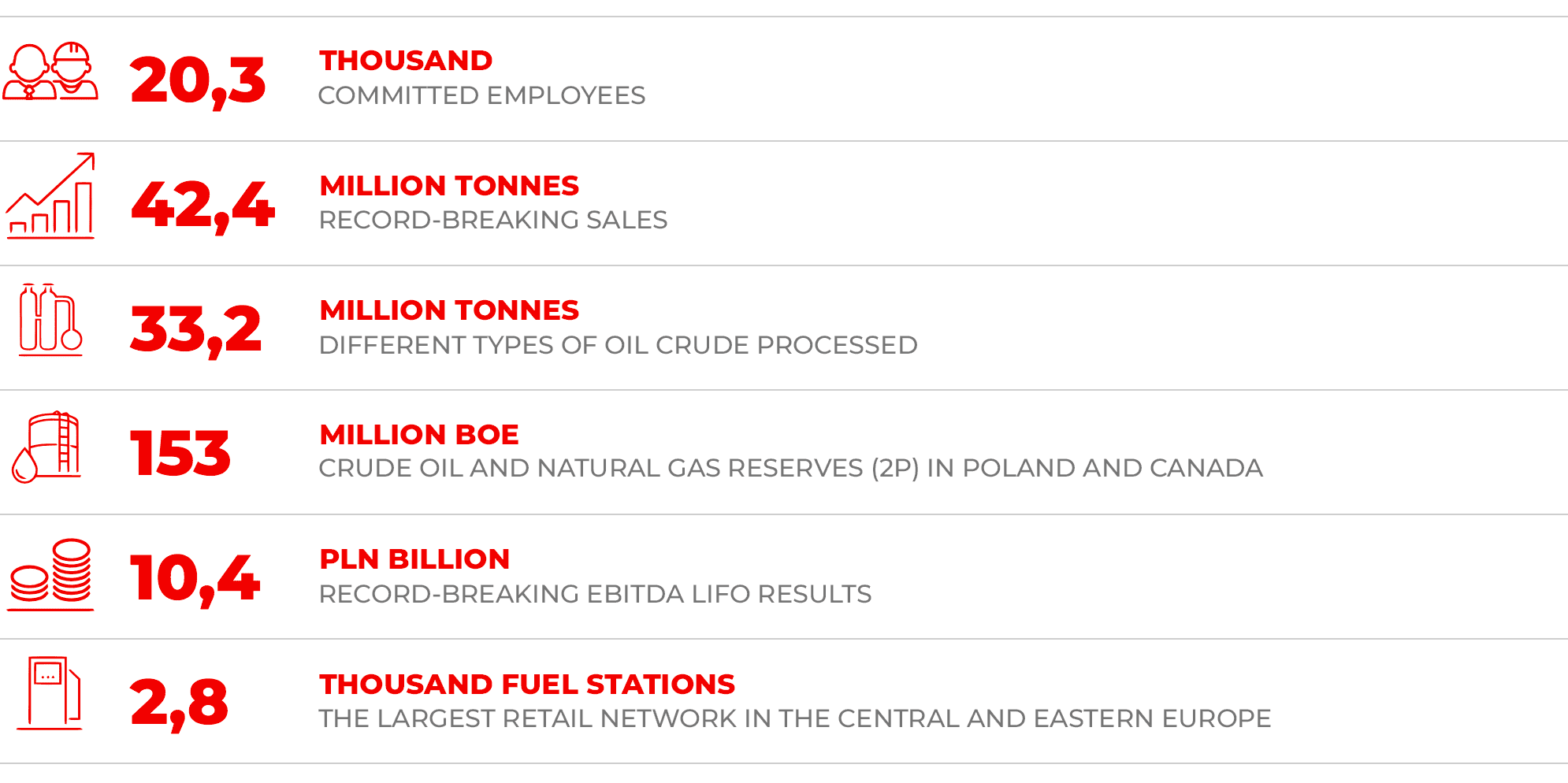 ---
20.3

THOUSAND

COMMITTED EMPLOYEES
---
42.4

MILLION TONNES

RECORD-BREAKING SALES
---
33.2

MILLION TONNES

DIFFERENT TYPES OF OIL CRUDE PROCESSED
---
153

MILLION BOE

CRUDE OIL AND NATURAL GAS RESERVES (2P) IN POLAND AND CANADA
---
10.4

PLN BILLION

RECORD-BREAKING EBITDA LIFO RESULTS
---
2.8

THOUSAND FUEL STATIONS

THE LARGEST RETAIL NETWORK IN THE CENTRAL AND EASTERN EUROPE
---
EBITDA of PLN 11,078m
EBITDA before net impairment losses of PLN 11,247m
EBIT of PLN 8,657m
Net profit of PLN 7,173m
Assets of PLN 60,664m
CAPEX of PLN 4,602m
Equity of PLN 35,211m
Number of shares 427,709,061
Equity per share attributable to owners of the parent of PLN 75.28
Dividend paid: PLN 1,283bn or PLN 3 PLN per share
Net debt of PLN 761m
Net financial leverage of 2.2%
---
THE OPERATIONAL SEGMENTS OF THE ORLEN GROUP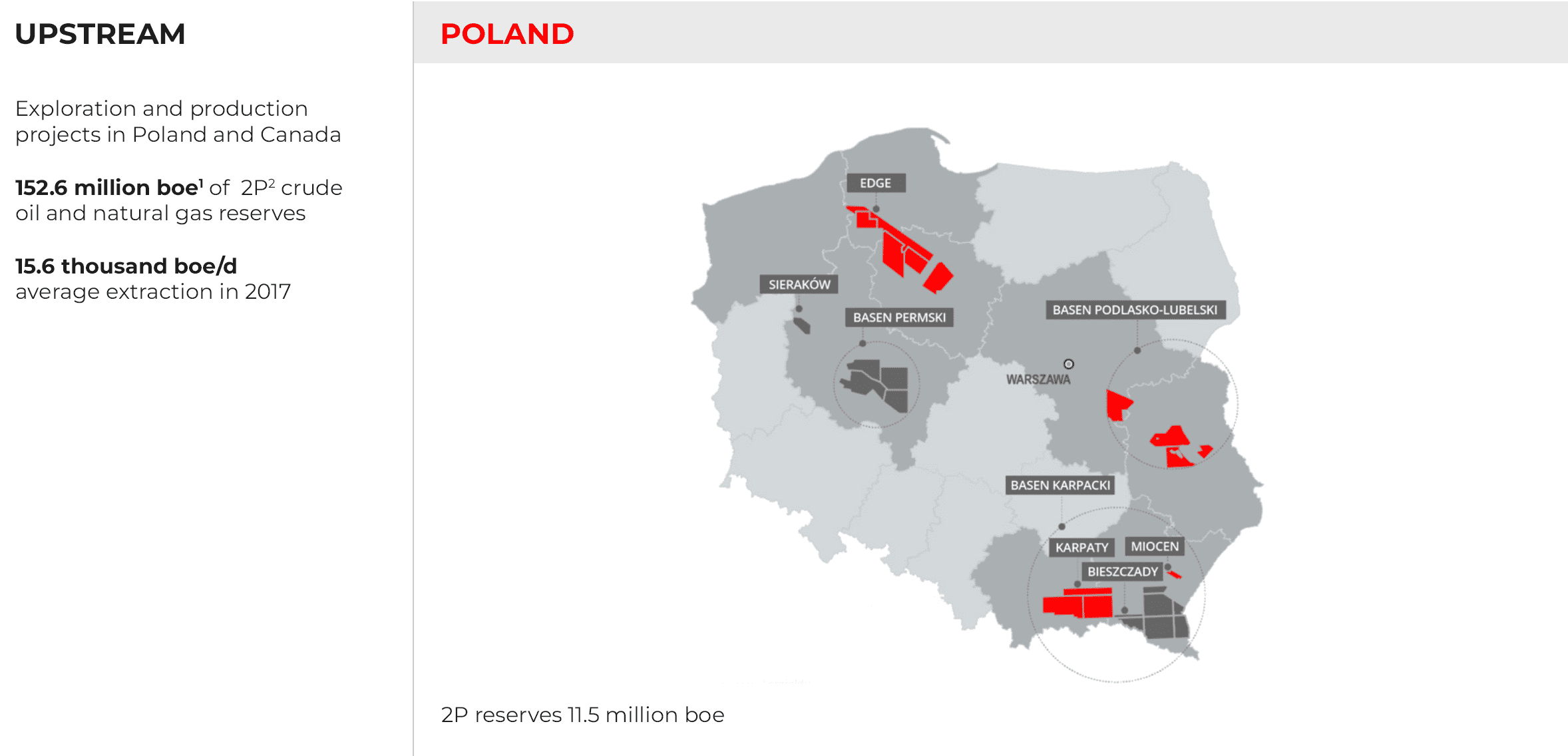 UPSTREAM
Exploration and production projects in Poland and Canada
152.6 million boe1 of 2P2 crude oil and natural gas reserves
15.6 thousand boe/d average extraction in 2017
POLAND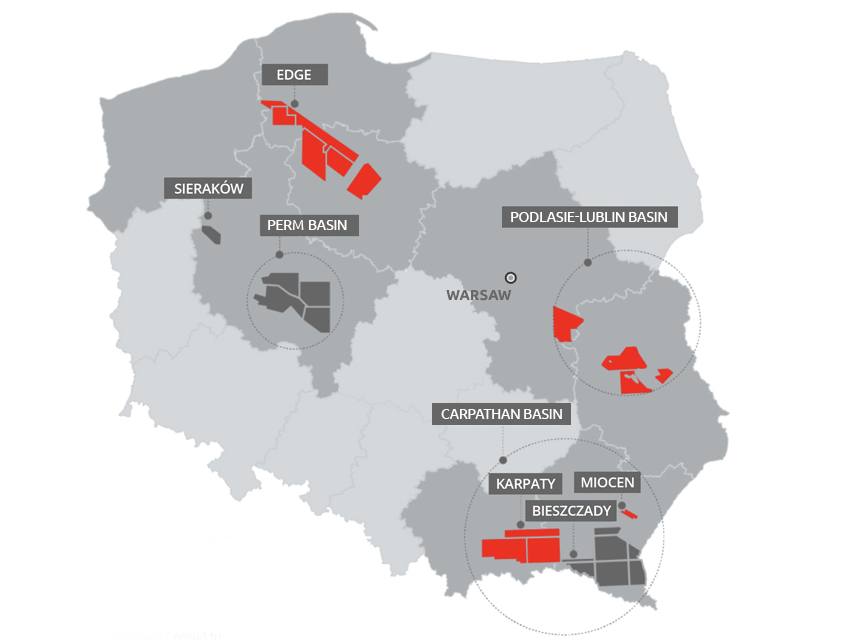 2P reserves 11.5 million boe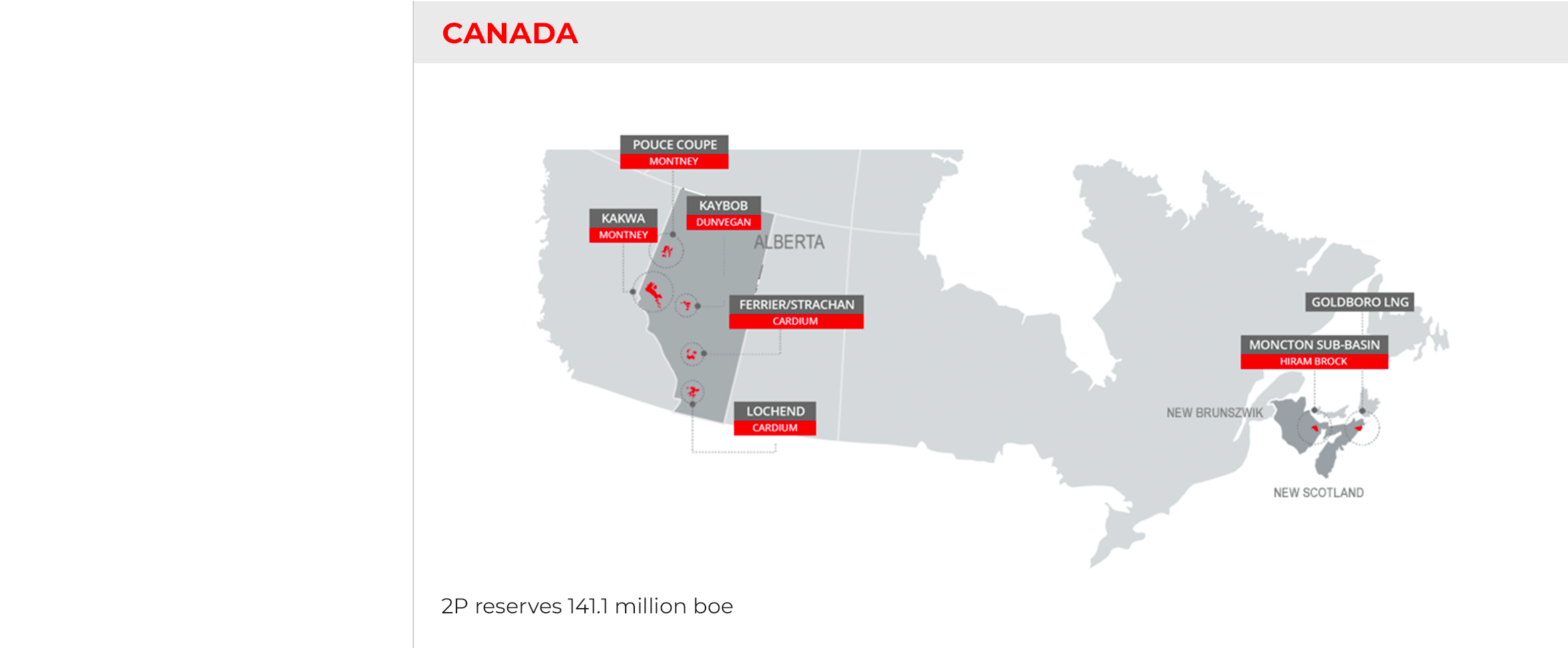 CANADA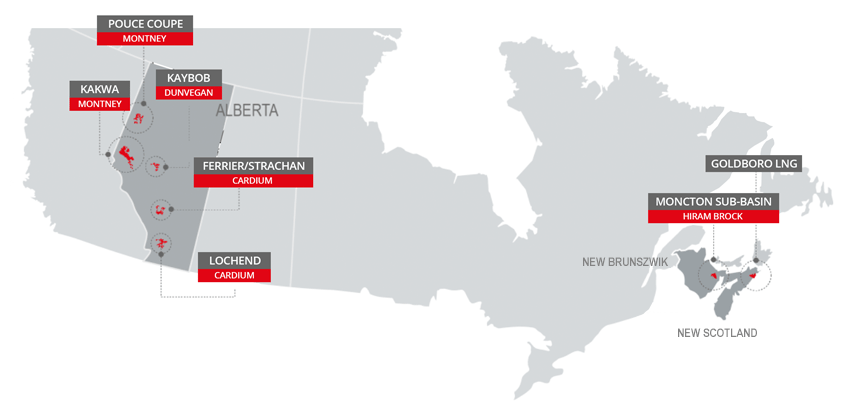 2P reserves 141.1 million boe

DOWNSTREAM
Over 35 million tonnes of crude oil of production capacities
6 ORLEN Group refineries3 in Poland, the Czech Republic and Lithuania
PRODUCTION

3.8 thousand kilometres of pipeline network and
47 storage facilities and terminals
LOGISTICS

Main development projects:
Polyethylene installation in Unipetrol
Metathesis and Visbreaking in PKN ORLEN
SALES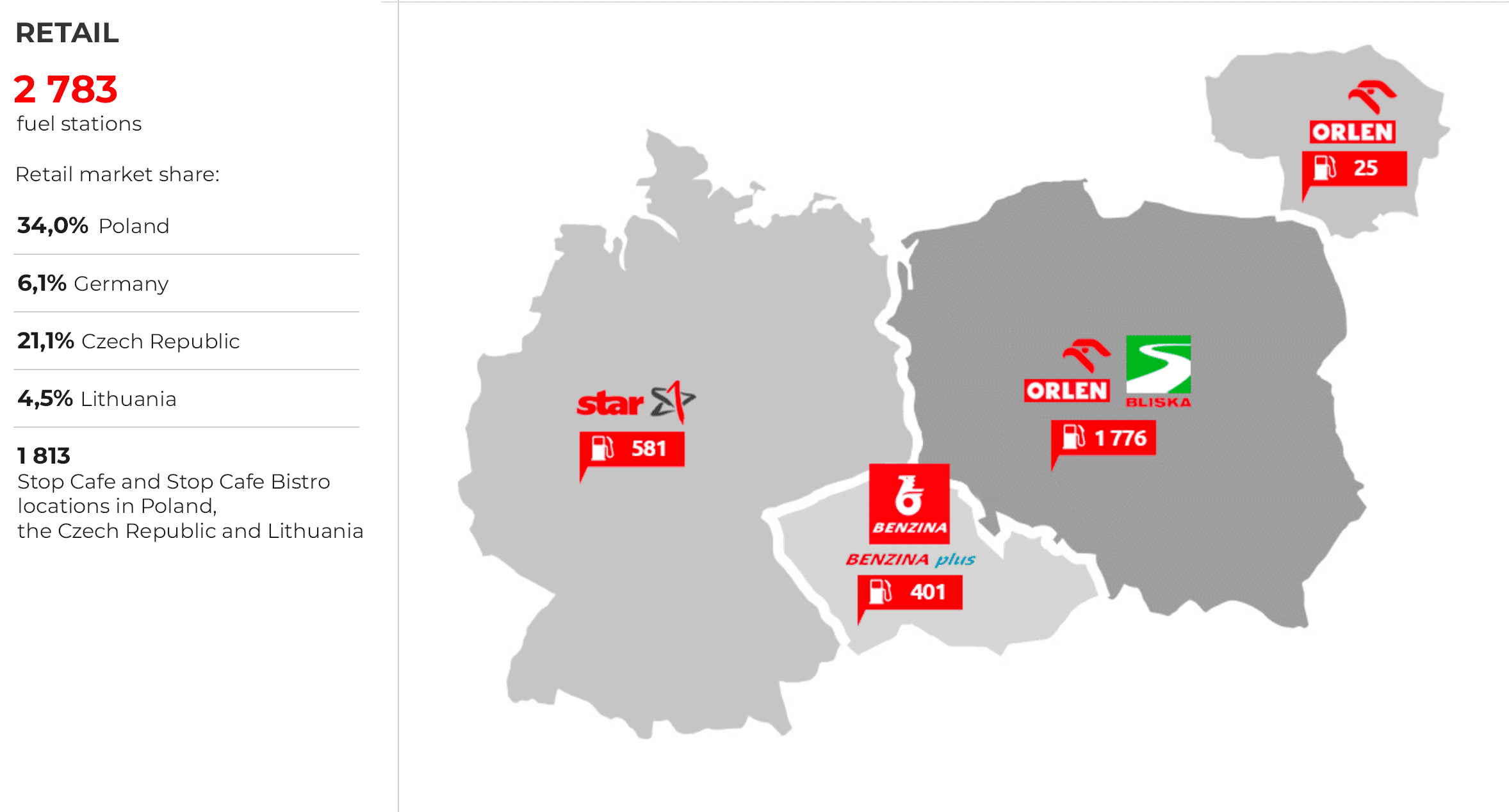 RETAIL
2,783
fuel stations
Retail market share:
34.0%
Poland
---
6.1%
Germany
---
21.1%
Czech Republic
---
4.5%
Lithuania
---
1,813
Stop Cafe and Stop Cafe Bistro locations in Poland, the Czech Republic and Lithuania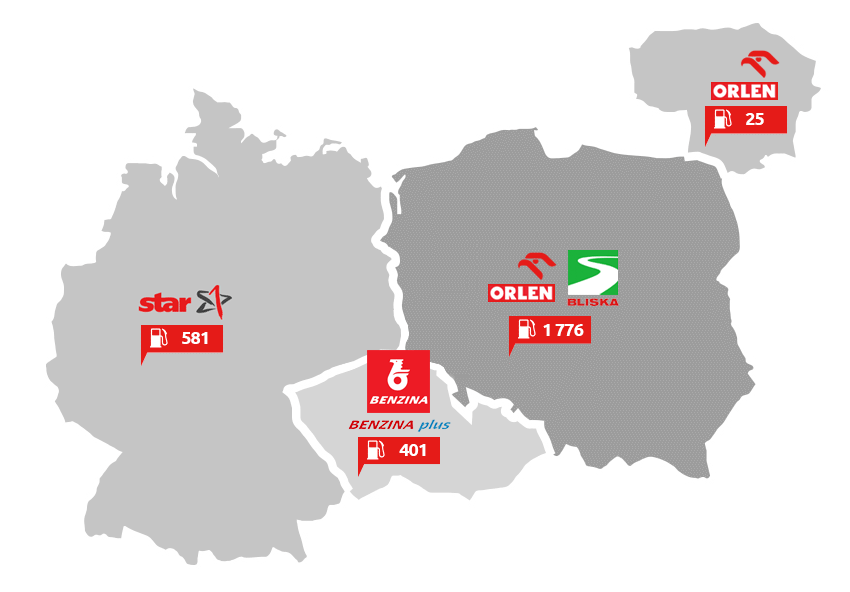 1barrel of oil equivalent
2Proven & probable reserves
3Refineries in Płock, Trzebinia, Jedlicze, Mazeikai, Kralupy and Litvinov
---
Key events in 2017

JANUARY
PKN ORLEN signs a contract with BP Europe, Shell Polska and AMIC Polska as part of the contracting process for gasoline and diesel oil sales on the Polish market in 2017.
PKN ORLEN signs an agreement to purchase the license and front-end engineering design for the construction of a Visbreaker unit.
Extraordinary General Meeting.
FEBRUARY
PKN ORLEN shares included in the FTSE4Good Emerging Index.
PKN ORLEN wins a distinction for the best corporate FX risk management team in Central and Eastern Europe in a prestigious ranking by the Global Finance magazine.
PKN ORLEN receives the 'Top Employer Polska 2017' certificate.
A project to install wind turbines at the Group's service stations is launched.
MARCH
PKN ORLEN distinguished as 'The World's Most Ethical Company' for the fourth time.
ORLEN KolTrans and Euronaft Trzebinia launch an investment programme.
PKN ORLEN invests in a modern closed-loop rail tank car wash facility.
APRIL
PKN ORLEN receives highest rating ever from Moody's Investors.
ORLEN Aviation is incorporated.
PKN ORLEN enters the aviation fuel market in the Czech Republic.
PKN ORLEN becomes the Strategic Sponsor of the Polish Olympic Committee and Polish Olympic Team.
PKN ORLEN tops the '500 List' ranking of the Rzeczpospolita daily for the eighteenth time.
PKN ORLEN named the 'Transparent Company of the Year 2016'.
PKN ORLEN at the top of the ranking of 'Most Sought-After Employers According to Managers and Professionals'.
Contract for propylene from the ORLEN Group's metathesis unit.
MAY
Consolidation of the ORLEN Group's logistics assets.
Launch of car sharing service at selected PKN ORLEN service stations.
Launch of the first refuelling station for hydrogen-powered cars at the ORLEN Group's Star-brand service station in Mülheim, Germany.
Two mobile laboratories delivered by PKN ORLEN to the National Revenue Administration.
PKN ORLEN participates in an energy research project as part of the EU Horizon 2020 Programme.
JUNE
ORLEN Lietuva and the Lithuanian Railways sign an agreement in Vilnius.
CCGT unit commissioned in Włocławek.
Annual General Meeting.
Appointment of the PKN ORLEN Management Board for the next term of office.
ORLEN launches Europe's first platform for planning logistic processes.
JULY
Issue of the ORLEN Group Integrated Report for 2016.
'Tax Fair Play' programme rolled out across the PKN ORLEN service station chain.
ORLEN service stations awarded with the 'Most Trusted Brand' title.
AUGUST
PKN ORLEN pays the highest dividend in its history.
Grant Fund for Płock receives co-funding from the EU.
ORLEN Group's Star-brand service stations named No. 1 in the 'Fanfocus 2017' customer satisfaction survey.
SEPTEMBER
New stop.cafes and O! Shops at over 100 ORLEN service stations.
PKN ORLEN signs a long-term contract with Siemens Polska for maintenance of turbine generators at the PKN ORLEN CHP plant in Płock.
Issue of the fist series of bonds under PKN ORLEN's second retail bond programme.
PKN ORLEN and Polskie Górnictwo Naftowe i Gazownictwo launch natural gas production from the Miłosław E field in the Poznań region.
OCTOBER
First cargo of crude oil delivered to PKN ORLEN from the United States.
PKN ORLEN introduces a new proprietary brand O!.
The ORLEN Group Integrated Report awarded in 'The Best Annual Report 2016' competition.
NOVEMBER
PKN ORLEN included in the 2017 Thomson Reuters Top 100 Energy Leaders list.
Issue of PKN ORLEN's Series B retail bonds.
Completion of the 'Green Energy' investment programme at the PKN ORLEN production plant in Płock.
The Group's Czech company Unipetrol signs a contract for the construction of new boilers for the steam cracking unit at the chemical plant in Záluží.
DECEMBER
Launch of a conditional voluntary tender offer for shares of the Group's Czech company Unipetrol a.s.
PKN ORLEN wins a distinction for the best corporate FX risk management team in Central and Eastern Europe in a prestigious ranking by the Global Finance magazine.
Discontinuation of mercury use at the production facilities of the Group's Czech company Spolana.