Effluents from all units operated by the ORLEN Group companies are directed to industrial and rain water sewage systems and then undergo treatment and are discharged into the environment i.e. surface waters or soil.
PKN ORLEN operates a highly-efficient central wastewater treatment plant (CWTP), which treats sanitary sewage from offices and social facilities, industrial wastewater and rainfall runoff from the premises of the Płock production plant, including that coming from companies operating on the plant's premises. All wastewater funnelled to the CWTP is subject to a multi-step treatment process which includes mechanical, physical, chemical and biological treatments. Treated wastewater, meeting the criteria specified in the Company's integrated permit, is discharged to the Vistula river. At PKN ORLEN, some treated wastewater is reused to produce water suitable for various uses on the plant's premises (other than for human consumption) or for fire-fighting purposes, which considerably reduces the quantity of water abstracted from the Vistula river and pollutant loads discharged with effluents.
The amount of effluent discharged to the environment is metered. In 2017, it totalled 51,263,677m m3 for the ORLEN Group.
The table below presents volumes of effluents discharged to the environment by companies of the ORLEN Group.
Amounts of effluents discharged by ORLEN Group companies in 2016–2017 [m3]
Effluent type
Effluents discharged to the environment [m3]
2017
2016
change [%]
Industrial effluents
44,878,631
38,812,200
15.63
Other
6,385,047
7,232,831
(11.72)
Total
51,263,677
46,045,031
11.33
The year-on-year rise in the volume of effluents was due to the steam cracker at Unipetrol having been restored to normal operation and the CCGT unit in Włocławek having come on stream.
In addition to PKN ORLEN, the following companies operate their own wastewater treatment facilities: ANWIL, Ship-Service, Spolana, Paramo, Unipetrol, ORLEN Lietuva and ORLEN Południe. The other companies discharge wastewater into third-party wastewater collection systems.
Share of particular substance loads in effluents discharged to the environment [Mg]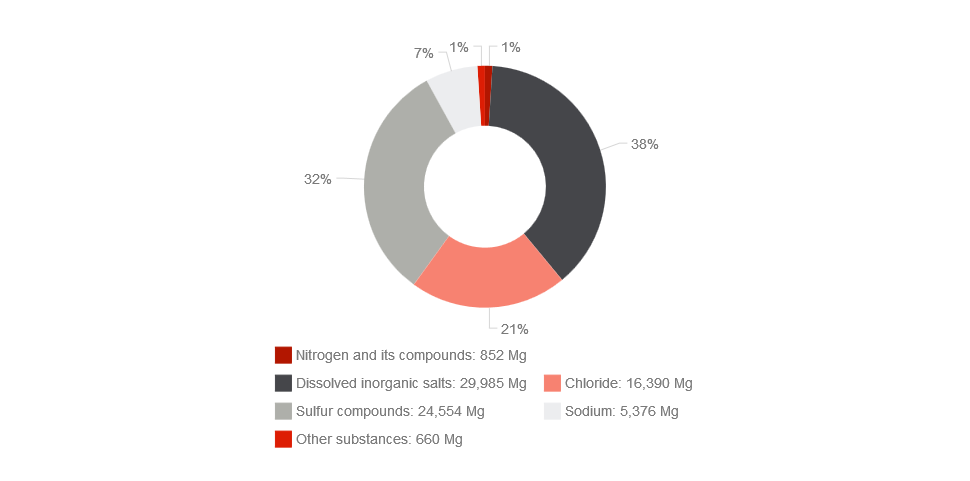 The substance load in effluents discharged into the environment totalled 77,800 Mg. Chemical Oxygen Demand in the discharged effluents was 2,276 Mg.