Concept and key functionalities
We present the ORLEN Group's Annual Report, prepared as an integrated report. This document is our fourth Integrated Report, showing interactions and interrelations between the financial and non-financial aspects of the ORLEN Group's operations. As such, this Report provides a comprehensive and coherent overview of the Group's activities, business model, strategy, value creation process and financial performance from the point of view of our key stakeholders. To successfully achieve this objective, we have structured the layout and content of the document based on the IIRC (International Integrated Reporting Council) and GRI (Global Reporting Initiative) guidelines. The Report also reflects the latest directions in the EU legislation on disclosure of non-financial and diversity information (Directive 2014/95/EU).
Integrated reporting is a new method for communicating our business model. Preparation of an integrated report includes performing analyses and collecting information which is of key relevance to the ORLEN Group and its stakeholders. As a result, a complete Integrated Report is compiled, which, among other things, provides information on how the business strategy pursued by the Group and its risk management system translate into the Company's value creation over time, taking into account the Company's environmental impact. This Integrated Report presents the activities of the ORLEN Group in 2017, shows results and effects of its operations, and the key aspects of the Group's financial and non-financial performance vital to value creation.
In accordance with the guidelines on integrated reporting, our Report describes the ORLEN Group's current operations, its market, regulatory and social environments, management policies, strategy implementation, risks and opportunities, financial performance, Outlook (which reveals how the Company sees the future), trends, and market forecasts. It focuses on a description of the Company's business model, presentation of its respective capitals (including the financial, production, human, intellectual, social, and natural capital), changes therein over the year, and performance management. Presentation of the value creation process is another vital component of the Report.
HOW WE BUILD VALUE OF THE ORLEN GROUP
ORLEN. WE FUEL THE FUTURE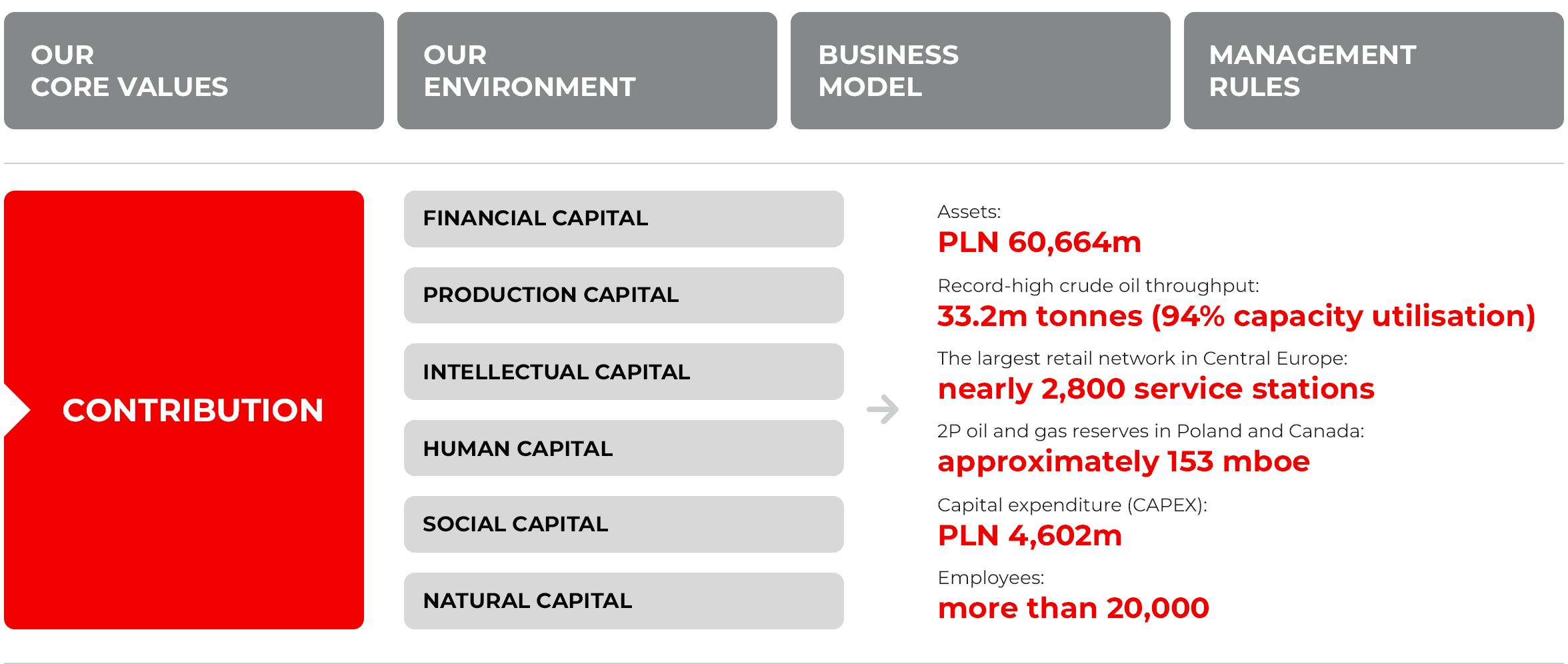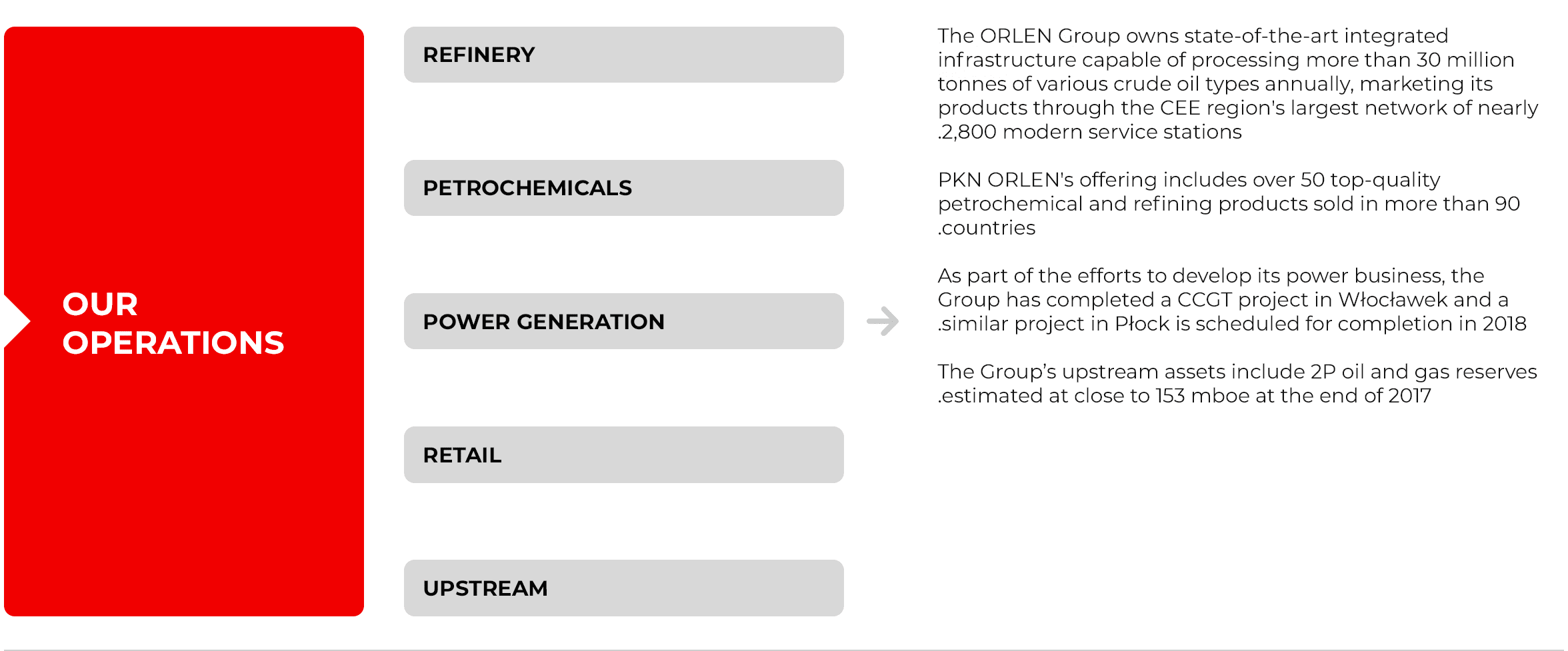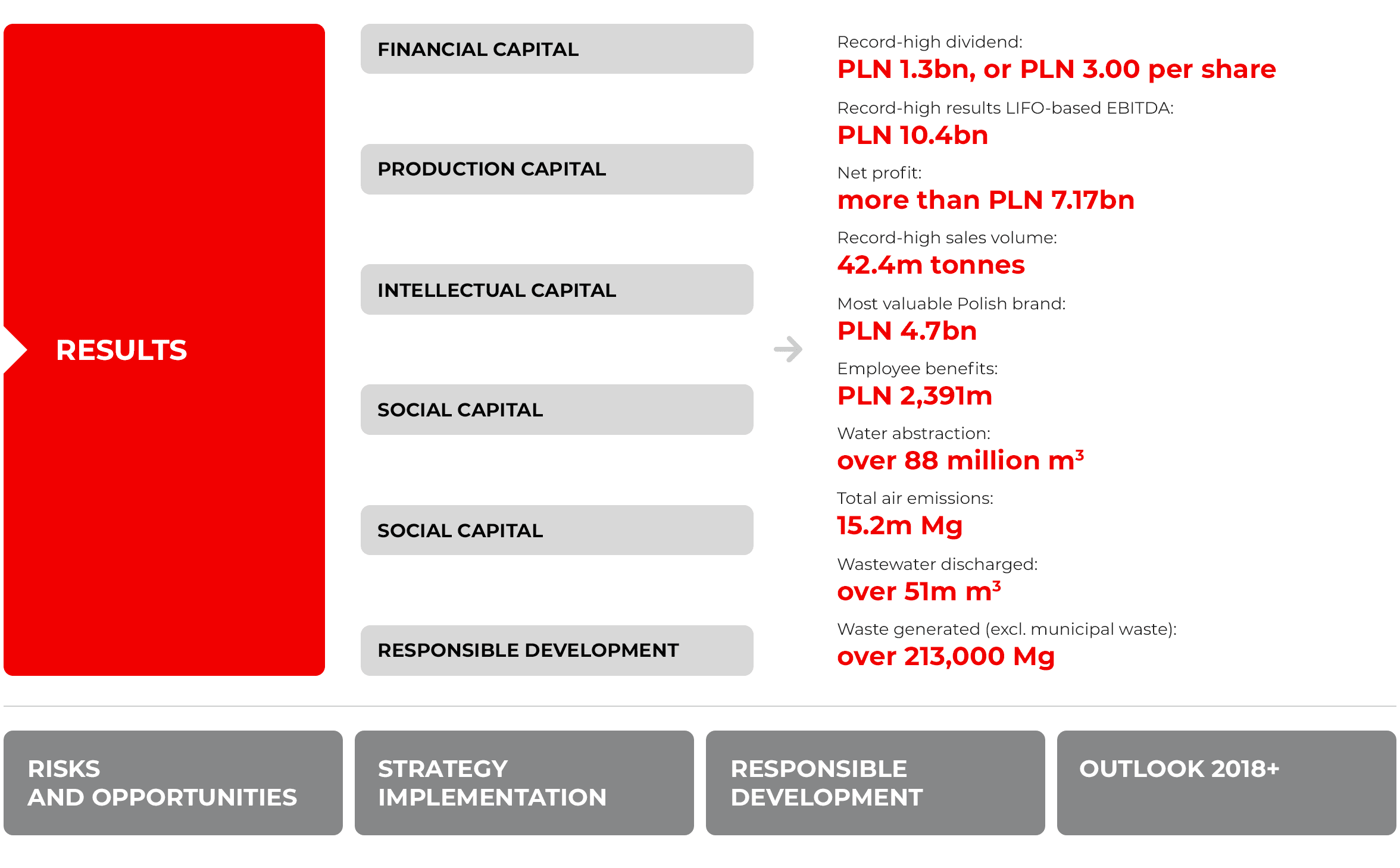 ---
Record-high crude oil throughput: 33.2m tonnes (94% capacity utilisation)
The largest retail network in Central Europe: nearly 2,800 service stations
2P oil and gas reserves in Poland and Canada: approximately 153 mboe
Capital expenditure (CAPEX): PLN 4,602m
Employees: more than 20,000
---
The ORLEN Group owns state-of-the-art integrated infrastructure capable of processing more than 30 million tonnes of various crude oil types annually, marketing its products through the CEE region's largest network of nearly 2,800 modern service stations.
PKN ORLEN's offering includes over 50 top-quality petrochemical and refining products sold in more than 90 countries.
As part of the efforts to develop its power business, the Group has completed a CCGT project in Włocławek and a similar project in Płock is scheduled for completion in 2018.
The Group's upstream assets include 2P oil and gas reserves estimated at close to 153 mboe at the end of 2017.
---
Record-high dividend: PLN 1.3bn, or PLN 3.00 per share
Record-high results LIFO-based EBITDA: PLN 10.4bn
Net profit: more than PLN 7.17bn
Record-high sales volume: 42.4m tonnes
Most valuable Polish brand: PLN 4.7bn
Employee benefits: PLN 2,391m
Water abstraction: over 88 million m3
Total air emissions: 15.2m Mg
Wastewater discharged: over 51m m3
Waste generated (excl. municipal waste): over 213,000 Mg
---
Non-financial reporting is a crucially important element of an integrated report, and the Global Reporting Initiativeis one of the most popular non-financial reporting standards. The ORLEN Group's reports are prepared on the basis of this standard, describing such aspects as indirect economic impacts, labour practices and decent work (employment, occupational health and safety, training and education, diversity and equal opportunities), procurement practices, environmental matters (i.e. water and wastewater management, waste, emissions, capital expenditure on environmental protection, environmental grievance mechanisms), product responsibility, etc. Non-financial performance has been described in this Report through GRI indicators.
2018 is a breakthrough year in terms of non-financial reporting, both in Poland and in the entire European Union. Under Directive 2014/95/EU, approximately 6,000 undertakings in the EU and around 300 Polish companies will be required to disclose non-financial and diversity information. In 2018, companies to which this requirement applies published the first non-financial statements on their operations in 2017. The EU regulations have been implemented into Polish law by amending the Accounting Act (the Act amending the Accounting Act of December 15th 2016– the new Art. 49b + related amendments to other Articles thereof – applicable to financial statements prepared for the financial year beginning on January 1st 2017) and by amending the Minister of Finance's Regulation on current and periodic information of May 25th 2016. For more information, visit www.mf.gov.pl.
Public-interest entities that meet certain criteria must also present, in the form of separate statements or reports, their key non-financial performance indicators, due diligence policies and procedures, as well as significant risks and methods of their management with respect to social and employee-related aspects, environmental matters, respect for human rights, anti-corruption and bribery. A corporate governance statement must include a description of the diversity policy applied to the company's administrative, management and supervisory bodies with respect to aspects such as age, gender, educational and professional backgrounds, as well as the objectives of the diversity policy, how it has been implemented and the results in the reporting period.
March 2018 saw the publication of the "Non-Financial Statement of the ORLEN Group and PKN ORLEN S.A. for 2017". The above matters are also addressed in the "Responsible Development" and "Risks and opportunities" sections of this Report.
There have been no significant changes in the scope, boundary, or measurement methods applied relative to the previous report published in July 2017. In this Report, a change has been made to the disclosures under G4-EC1 – "Direct economic value generated and distributed", the reason being non-inclusion of deferred tax.
Key functionalities

The Integrated Report is only available online with a number of functionalities and tools facilitating access to its contents, including:
The Report also contains interactive infographics, including the business model, the value creation model, and the map of markets where ORLEN Group products are sold.
It is also possible to generate a pdf file of the Report.
Users can complete an interactive questionnaire to provide feedback on the Report.
A detailed structure of the Integrated Report is available here.
Integration
We have defined our key areas with the principle of integration in mind, which is reflected in the very structure of this Report:
Our report
Concept, methodology and key functionalities.
The ORLEN Group and its environment
What the organisation deals with and in what external conditions it operates Achievements in each area of operations (business segment)
Management policies
The Group's corporate governance, relations between corporate units and key assumptions underlying management of the ORLEN Group
Our strategy
Pillars of our strategy, its implementation and development directions
Responsible development
Social and employee-related aspects, environmental matters, respect for human rights, anti-corruption and bribery
Risks and opportunities
The enterprise risk management system, opportunities and challenges faced by the ORLEN Group
Financial results
To what extent we have achieved our strategic objectives
Outlook 2017+
Prospects for the future
Connectivity
The contents of this Report are not static. Its pages are interlinked, forming a unique, chain-like structure.
Each sub-section is linked to:
The contents may be defined through different kinds of capital − whether financial, production, human, intellectual, social or natural.

This linkage enables easier access to information on the capitals, which often overlap, building the Company value in different areas.
This Report presents non-financial data in compliance with the G4 version of the Global Reporting Initiative guidelines. Each page contains information on the relevant GRI indicator, along with several other tools, such as the GRI search and the GRI table.

Contents of previous Reports:
Selected internal pages link back to data from the Company's Integrated Reports for the last three years, allowing users to compare relevant data and trends over the recent years.


Each page of the Report is linked to two other pages with similar or supplementary topics.
Experience in reporting
Reporting is a fixed and important part in the process of communicating information on the ORLEN Group's activities. Communication and dialogue with the environment play a vital role in the ORLEN Group's CSR strategy for 2015−2017. Reports are issued on an annual basis and are continuously evolving, to reflect changes within the ORLEN Group and in its environment. Until 2014, we published annual reports and CSR reports separately. Since its inception, PKN ORLEN has published 14 annual reports and 10 corporate social responsibility (CSR) reports. Since 2008, we have produced our CSR reports in line with the Global Reporting Initiative standards. Until 2013, ecology and environmental reports were issued as separate publications. One of the cornerstones of our CSR strategy is the objective of being perceived as a CSR leader by our stakeholders. To that end, we have committed to implementing a number of initiatives and measures, including the adoption of integrated reporting. In August 2015, PKN ORLEN published its first Integrated Report, covering 2014.

UNTIL 2013
x10 ENVIRONMENTAL IMPACT REPORTS
Significant changes in the organisation's size, structure, ownership, and its supply chain during the reporting period
The changes made in the ORLEN Group's structure were in pursuance of the strategy to focus on core business and allocate the released capital to development of the Group's business areas offering the greatest growth potential.
In 2017, key changes affecting the size, structure and ownership of the ORLEN Group involved:
Unipetrol Group – since 2017, as a result of organisational and consolidation processes, Polymer Institute Brno, Benzina, Unipetrol Services, Unipetrol Rafinerie, Chemopetrol and Česka Rafinerska have operated jointly as Unipetrol RPA.
ORLEN Finance AB – in the second half of 2017, steps were taken to liquidate the company.
ORLEN KolTrans – in June 2017, Euronaft Trzebinia's railway services business, owned by ORLEN Południe, was transferred to ORLEN KolTrans. The integration of railway operations is an element of the ORLEN Group's Logistics Strategy designed to streamline this segment.
No material changes occurred in the ownership structure of other ORLEN Group companies.
In 2017, pipelines were the primary mode of transport of feedstock and products used by the Group. On the Polish market, PKN ORLEN used pipelines owned by Przedsiębiorstwo Eksploatacji Rurociągów Naftowych and its own pipelines. Crude oil is mainly transported over the network of pipelines owned by Przedsiębiorstwo Eksploatacji Rurociągów Naftowych and over the Company's own pipeline. In 2017, the ORLEN Group used Group- and third party-owned fuel terminals to receive, store, dispatch and handle fuels.
In December 2017, PKN ORLEN expanded its logistics infrastructure by adding a fuel terminal in Trzebinia, which marked the end of the process to centralise primary logistics assets at PKN ORLEN.
In 2017, in the Czech Republic, the ORLEN Group used product pipelines operated by ČEPRO, feedstock pipelines operated by MERO, storage and distribution depots owned by state-owned operator ČEPRO, and terminals owned by the Group.
The primary asset of the logistics infrastructure on the Lithuanian market is ORLEN Lietuva's feedstock pipeline linking the terminal in Būtingė and the refinery in Mažeikiai.
On the German market, ORLEN Deutschland uses the storage and distribution capacities of seven third party-owned depots. Products are delivered to service stations by road.
In 2017, most deliveries of natural gas to the ORLEN Group in Poland were made under a five-year contract signed in 2016 between PKN ORLEN and PGNiG, and under additional contracts with major European gas suppliers. Gas was also purchased on the Polish Power Exchange. The ORLEN Group takes steps to ensure stability of supplies and to lower gas procurement costs through such measures as diversification of supply sources, centralisation of gas trading functions and further development of the trading expertise. The current portfolio of gas contracts allows the Group to optimise gas procurement costs by selecting the underlying gas indices and delivery points. PKN ORLEN has gas transmission contracts with both domestic and foreign operators, which secures full support in natural gas logistics for the Production Plant in Płock, CCGT Włocławek and CCGT Płock.
As regards crude oil supplies, in 2017 the following long-term contracts were in force: with Rosnieft Oil Company and Tatneft Europe AG for oil supply through an oil pipeline to the Płock refinery, and with Saudi Arabian Oil Company for oil supply by sea. The contracts accounted for over 80% of PKN ORLEN's total crude oil procurement. Crude oil was also sourced from Kazakhstan, Norway, Iran, the United States, the United Kingdom, and Poland. Under separate contracts, PKN ORLEN supplies crude oil to three ORLEN Group refineries, in Litvinov and Kralupy in the Czech Republic, and in Lithuania's Mažeikiai. The refineries in the Czech Republic received feedstock from Russia, Algeria, Saudi Arabia, Azerbaijan and Kazakhstan. The Mažeikiai refinery was primarily supplied with Russian oil, with additional deliveries from Saudi Arabia, Norway and Kazakhstan.