We are an established player on the fuel and energy markets and the largest company in Central and Eastern Europe. The ORLEN Group comprises PKN ORLEN as the Group's Parent, and entities operating in Poland, Germany, the Czech Republic, Lithuania, Malta, Sweden, the Netherlands, Slovakia, Hungary, Estonia, Latvia, the US and Canada.
We operate in three business segments – Downstream, Retail and Upstream, on five home markets – in Poland, the Czech Republic, Germany, Lithuania, and Canada. We sell refined and petrochemical products to customers in almost 90 countries on 6 continents.
BUSINESS MODEL

UPSTREAM
Exploration and production projects in Poland and Canada
152.6 million boe1 of 2P2 crude oil and natural gas reserves
---
15.6 thousand boe/d average extraction in 2017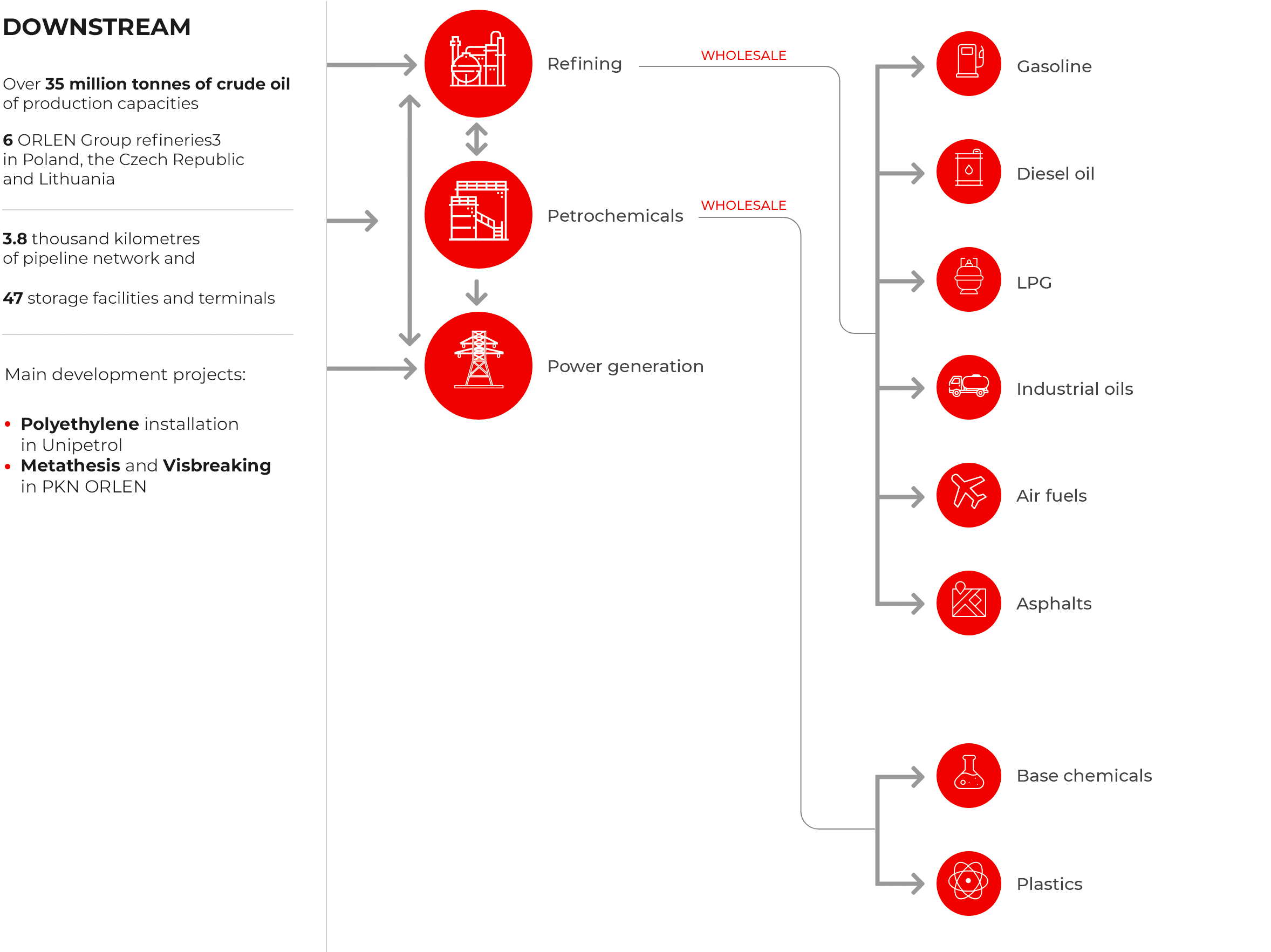 DOWNSTREAM
Over 35 million tonnes of crude oil of production capacities
6 ORLEN Group refineries3 in Poland, the Czech Republic and Lithuania
---
3.8 thousand kilometres of pipeline network and
47 storage facilities and terminals
---
Main development projects:
Polyethylene installation in Unipetrol.
Metathesis and Visbreaking in PKN ORLEN.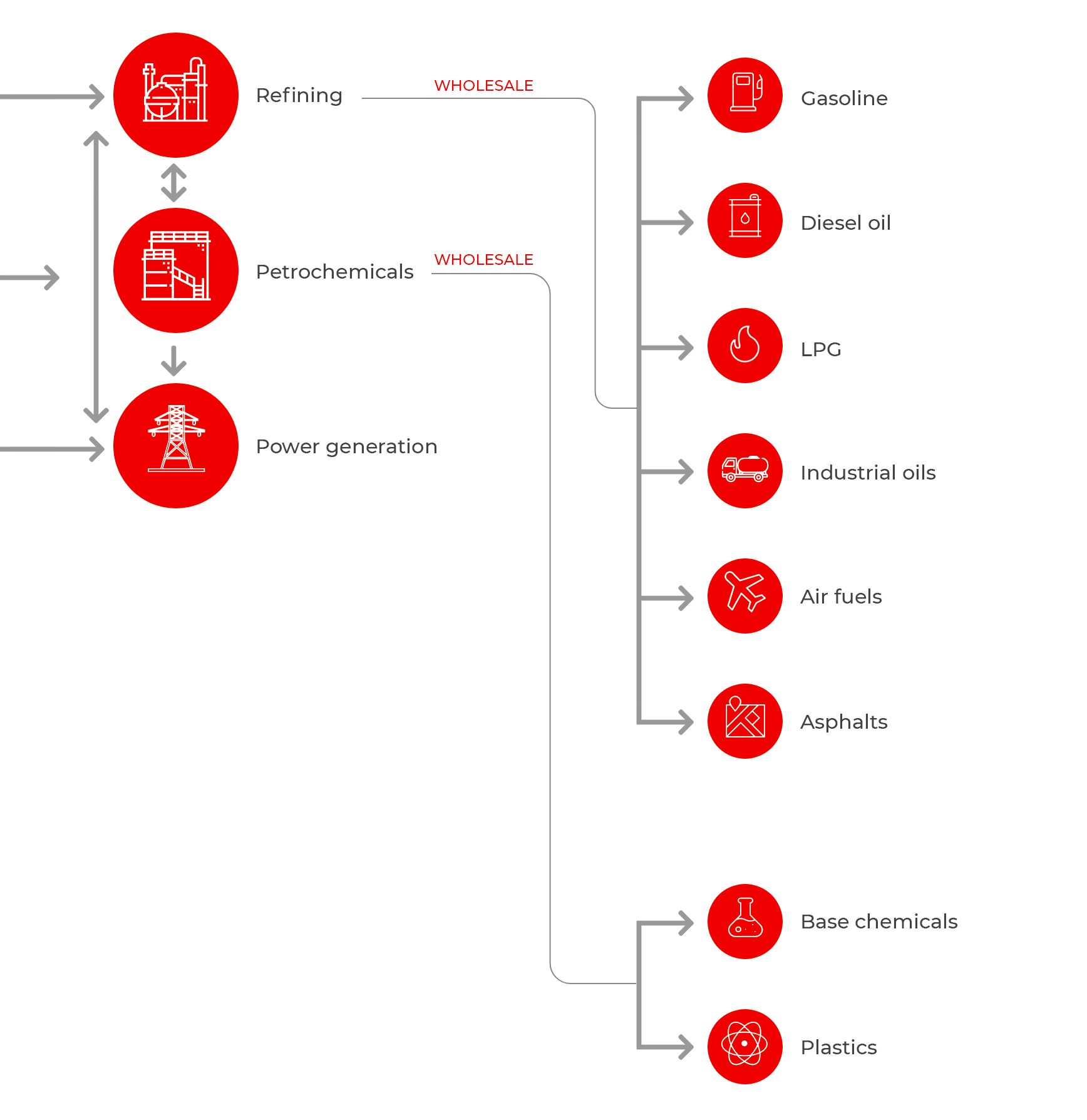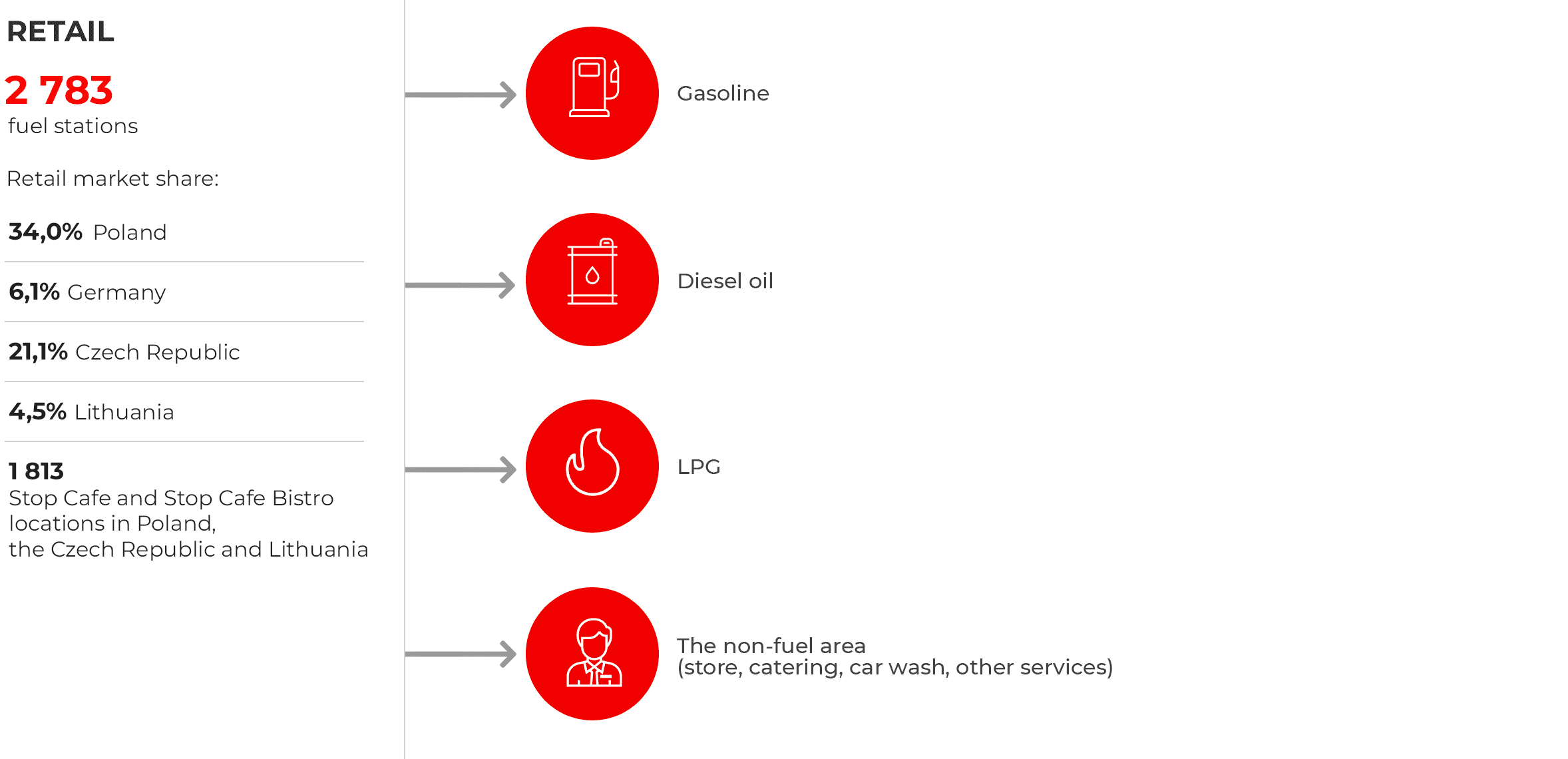 RETAIL
2,783
fuel stations
Retail market share:
34.0%
Poland
---
6.1%
Germany
---
21.1%
Czech Republic
---
4.5%
Lithuania
---
1,813
Stop Cafe and Stop Cafe Bistro locations on retail markets of ORLEN Group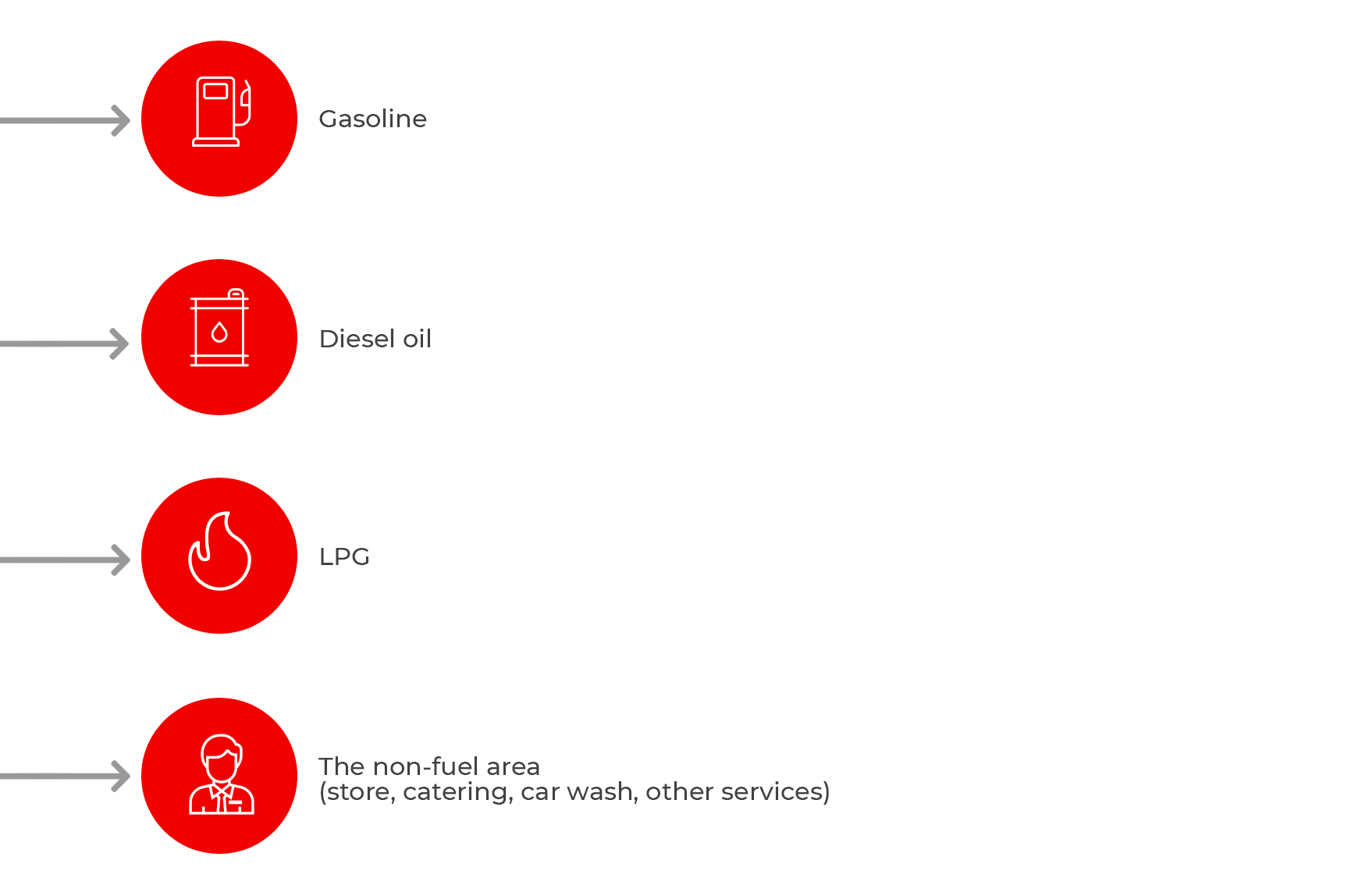 1barrel of oil equivalent.
2Proven & probable reserves.
3Refineries in Płock, Trzebinia, Jedlicze, Mazeikai, Kralupy and Litvinov.
Downstream
As part of our Downstream operations, we manage six refineries with a total processing capacity of 35.2m tonnes.
The refinery in Płock is one of the most advanced integrated production facilities in Central and Eastern Europe, with an annual production capacity of 16.3m tonnes. In petrochemicals, the key unit (Olefins) has a maximum production capacity of about 700,000 tonnes of ethylene and about 380 thousand tonnes of propylene. PKN ORLEN-produced monomers are a feedstock for the polymer units at Basell Orlen Polyolefins and the PVC unit at ANWIL. PKN ORLEN also operates a modern PX/PTA complex with an annual capacity of ca. 690,000 tonnes of terephthalic acid.
The other Polish refineries, operated by ORLEN Południe and located in Trzebinia and Jedlicze, specialise in the production of biocomponents, base oils, heating oil, hydrotreated paraffin as well as the regeneration of used oil.
ORLEN Lietuva's refinery in Mazeikiai, with an annual production capacity of 10.2m tonnes, is the only facility of that type in the Baltic States (Lithuania, Latvia and Estonia).
The Unipetrol Group operates refineries in Kralupy and Litvinov, with a combined annual production capacity of 8.7m tonnes. The Unipetrol Group also owns gas petrochemical assets with a combined annual production capacity of approximately 600,000 tonnes, including 320,000 tonnes of polyethylene and approximately 280,000 tonnes of polypropylene. Construction of a new polyethylene 3 unit, with an annual capacity of approximately 270,000 tonnes4, is underway. Once completed, the unit will allow Unipetrol to increase the use of the Olefins installation and further integrate the petrochemical and refining operations.
ANWIL of Włocławek is the only Polish producer of polyvinyl chloride (PVC) and a major producer of fertilizers and sodium hydroxide in Poland. Its annual production capacities are approximately 1,160,000 tonnes of nitrogen fertilizers, 560,000 tonnes of PVC and granulates, and 360,000 tonnes of sodium hydroxide.
Basell ORLEN Polyolefins of Płock operates units whose combined production capacity reaches 820,000 tonnes (420,000 tonnes of polyethylene and 400,000 tonnes of polypropylene) and its products are distributed both domestically and on foreign markets.
4 The total increase in power will amount to 150,000 tons / year.
The logistics infrastructure is one of the key elements of the ORLEN Group's competitive advantage. The Group operates a network of complementary infrastructure assets: fuel terminals, onshore and offshore handling depots, transmission pipelines, rail transport, and transport by road tankers. In 2017, pipelines were the primary mode of transport of feedstock and products used by the Group. The total length of product and feedstock pipeline networks, both Group- and third party-owned, used by the ORLEN Group in Poland, the Czech Republic and Lithuania was nearly 3,800 km (including 2,100 km of product pipelines, and 1,700 km of feedstock pipelines).
The ORLEN Group is a significant producer of electricity and heat, largely used to satisfy the Group's own production needs. It is also one of the largest consumers of gas in Poland and an active participant in the process of gas market liberalisation. The ORLEN Group currently owns power generation assets in three countries. In Poland, they are located in Płock, Włocławek, Jedlicze and Trzebinia; in the Czech Republic – in Litvinov, Spolana, Kolin and Pardubice; and in Lithuania – in Mazeikiai. In line with its Strategy, the ORLEN Group both upgrades its existing power generation assets and constructs new projects (CCGT units). The CCGT unit in Włocławek, which cogenerates electricity and heat, not only satisfies the Group's own demand for energy, but has also made PKN ORLEN an active market participant closely collaborating with PSE, the national power grid. Another CCGT unit, with a capacity of 608 MWe, will be brought onstream in Płock in 2018. Surplus electricity from the new CCGT assets is sold both on the wholesale energy market and to end customers.
Retail
The ORLEN Group is the undisputed leader in retail fuel sales in Central Europe, managing a network of almost 2,800 service stations in the premium and economy segments, which handle around 1.4m transactions daily.
In Poland, our service stations operate under the ORLEN brand in the premium segment and under the Bliska brand in the economy segment. In the Czech Republic, the brands are Benzina Plus, Benzina, Standard and Expres, and in Lithuania − ORLEN (premium segment). On the German market, ORLEN Deutschland operates economy stations under the STAR brand and the network is complemented by more than a dozen of Familia supermarket stations. Responding to customer needs, the ORLEN Group strives to make a complete range of services available across the chain, with innovative customer service solutions and additional amenities implemented on a trial basis. The Company is making rapid progress in growing non-fuel product sales (including by implementing the stop.cafe and O!Shop store formats).
Most of the fuels sold by the ORLEN Group's retail chains on the Polish, Czech and Lithuanian markets are manufactured by the Group's Downstream segment. As the ORLEN Group has no refining assets in Germany, fuels offered by ORLEN Deutchland are purchased from wholesalers operating on the German market.
In line with its strategic objectives for the retail operations, the Group plans to further expand its chain of CODO and DOFO stations, launch quality fuel products and make preparations for the launch of alternative fuels.
Upstream
In line with the Strategy, the ORLEN Group intends to continue prudently its exploration and production efforts to increase output and secure a wider access to own resources of crude oil and natural gas. The Group's upstream assets include 2P oil and gas reserves estimated at close to 153 mboe at the end of 2017.
In Poland, upstream operations mainly comprise exploration for and production of hydrocarbons. Currently, gas is produced in partnership with PGNiG S.A. In 2017, the average annualised share of the ORLEN Group in production was 1,200 boe/d.
At the end of 2017, the ORLEN Group held independently or with a partner (PGNiG) 26 licences in Poland, covering a total area of 18,700 km2 and spread over eight provinces, with 2P reserves of 11.5 mboe.The Group holds 100% interests in 13 licences and 49% interests in the other 13 licences.
The ORLEN Group, via its subsidiary ORLEN Upstream Canada, conducts production operations in Canada. In 2017, the capital expenditure programme focused on the Ferrier and Kakwa areas in the province of Alberta.
In Alberta, Canada, the ORLEN Group is a recognised operator and holds production assets covering a total area of 230,700 acres (900 km2), with total 2P reserves of 141.1 mboe. The ORLEN Group also holds minor exploration and production assets in New Brunswick, and a 7.4% interest in a company developing an LNG export terminal in Nova Scotia.
We are committed to sustainable development and attach a lot of importance to our impact on the environment. We take care to ensure that our success, achieved through hard work and dedication of over 20,000 of ORLEN Group staff, is grounded in the principles of ethics and our key values.
Our mission
By discovering and processing natural resources, we fuel the future.
Our corporate motto
ORLEN. We fuel the future.​
2016-2017 financial highlights
Downstream [PLNm]
| | 2017 | 2016 |
| --- | --- | --- |
| Revenue of PLN | 75,241 | 60,094 |
| EBITDA of PLN | 9,500 | 8,410 |
| EBITDA before net impairment losses of PLN | 9,519 | 8,192 |
| EBIT of PLN | 7,932 | 7,093 |
| Assets of PLN | 42,159 | 38,770 |
| CAPEX of PLN | 2,925 | 3,533 |
Retail [PLNm]
| | 2017 | 2016 |
| --- | --- | --- |
| Revenue of PLN | 33,630 | 30,121 |
| EBITDA of PLN | 2,038 | 1,794 |
| EBITDA before net impairment losses of PLN | 2,049 | 1,801 |
| EBIT of PLN | 1,616 | 1,402 |
| Assets of PLN | 6,511 | 6,139 |
| CAPEX of PLN | 678 | 479 |
Upstream [PLNm]
| | 2017 | 2016 |
| --- | --- | --- |
| Revenue of PLN | 515 | 442 |
| EBITDA of PLN | 153 | 182 |
| EBITDA before net impairment losses of PLN | 293 | 255 |
| EBIT of PLN | (165) | (119) |
| Assets of PLN | 3,839 | 3,840 |
| CAPEX of PLN | 778 | 525 |
Number of employees as at December 31st 2016 and December 31st 2017 (both active and inactive employees):
SEGMENT

Employment at the end of the period in persons (active and inactive persons) - without consolidation

31.12.2017
31.12.2016
DOWNSTREAM
14,349
14,064
RETAIL
1,255
1,214
UPSTREAM
148
143
CORPORATE FUNCTIONS
4,510
4,309
Total
20,262
19,730